Memorial Weekend Outfit Ideas from TCC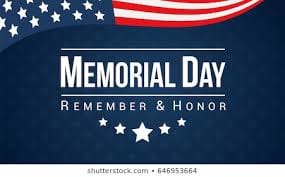 This weekend, we take a pause as a nation to honor and reflect on the lives of those who served our country in the armed forces, but tragically did not make it home. We here at TCC would like to thank all those who served and who continue to serve, past, present, and future, to keep America safe and free. We would also like to thank their families--the life of a military spouse is NO picnic (just ask Emily's sister, Anna, a brave military wife and mom). 
This year, Memorial Day is observed on Monday, May 30th (this also happens to be our Emily's Wedding Anniversary!). It has become something of a tradition for many people to wear patriotic colors as they observe Memorial Day, and TCC has got you covered--all of the photos below are screenshots of the actual items, so you can simply plug the name of the piece you love into the search bar and find it right away! Use code MEMORIAL22 for a special, one-time-only 22% discount. 
Red
This cute tank is comfy and effortlessly chic for a hot summer backyard barbecue!
An ornate and romantic take on the shade, this wine-colored velvet cami is an all-season essential layering piece. 
With hints of blue and white on a red background, this swingy dress will keep you cool while simultaneously providing a subtle nod to patriotic colors. 
The obvious choice for both Memorial Day and 4th of July!
Blue
This adorable, button-accented cami just screams "Summer is here!"
Versatile, comfortable, and flattering, this blue skinnies will be a year-round wardrobe staple. 
This high-necked blue lace blouse will compliment your favorite low-cut tops (try layering it under one of our white camis below!)
Of course, you can't mention the color blue without including the ultimate wardrobe staple: denim. These classic shorts will go with absolutely everything. 
White
How sweet is this feminine, flirty lace top? 
Trust me--every woman needs a pair of white denim skinnies in her wardrobe! They are classic, timeless, classic, and a true "go-with-everything" staple. 
This sweet off-shoulder top is both elegant and feminine. 
Whether you wear this top alone or layered under a favorite sweater or jacket, this flirty white top is sure to be a new fave!

Both simple and sexy, this white denim skirt features a sultry lace-up front. 
There you have it, Friends--some great TCC picks for this weekend (that will also work for the 4th of July!). However you commemorate this weekend, please take a moment to reflect on those who gave the ultimate sacrifice so we could be free. We are free to spend time with our family and friends this long weekend only because of their bravery, and we stand in their debt. 
From all of us here at TCC to you, have a safe, happy, and healthy weekend, and thank you to those who served and are serving, and to their families. We are grateful for you forever. 
Love, 
-Em <3