What I Would be Wearing to Holiday 2020 Parties this Year....You Know, if Covid Wasn't a Thing....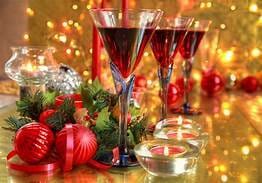 Well, y'all...I guess I probably should have titled this blog post "What I'll be Wearing for Holiday 2021 Parties"...since Holiday parties this year definitely aren't going to happen. 
Oh well...c'est la vie. 
However, just because you'll be stuck at home this year due to Covid doesn't mean that you can't still look FABULOUS, whether you are rocking a #livingroomchic look just for yourself, OR you have a Zoom Happy Hour with friends to celebrate the season! Either way, here are a few of my favorite things this holiday season (and, since no one is going to see them this year, they can do double duty for 2021!). 
Holiday 2020 (and 2021...Hopefully) Looks that Slay
Clothing
This season, it's all about faux leather--leggings, pants, and jackets! You can find some amazing faux leather jackets at TCC (search #
8751
, #
8753
, and #
8754
on thecuratedcloset.net for some of my FAVORITES currently in stock), and Express.com has some incredible faux leather leggings and pants for great deals (pro tip: find an Express outlet for prices that are unbelievably reduced)
Just be careful not to pull a Ross Gellar with your faux leather pants!
Yours Truly (with hubby and daughter) in my favorite Comme Faux Leather Jacket from TCC (#8751, in a cranberry shade that's PERFECT for the holidays...and only $40!), and my favorite faux leather pants from Express
From masks to tops to pants, sequins are IN this season! Just make sure that you find an item that has a soft lining...nothing worse than sequins scratching your skin!
Search "sequins" at thecuratedcloset.net for some seriously fierce looks, including everything from sequin face masks to sequin-decorated hoodies! Some of my favorites are below:
French connection sequin top, #7479
Nanette Lepore sequin dress, #8302
TCC Boutique Sequin Face Mask, available in blush (#8949 - sold out), gold (#8951), silver (#8948), black (#8947), and rose pink (#8963)
Pairing beautifully with the faux leather pants/leggings above, or standing easily on it's own as a dress, velvet is a festive, classic, and oh-so-chic choice for your holiday looks! We have a huge selection of velvet blouses and dresses available at TCC, and once again, Express rarely disappoints with their options as well!
Ro & De Velvet Cold Shoulder top, #8171 at thecuratedcloset.net
I'm a sucker for a classic, silky satin blouse--whether you wear it on it's own or peeking from under a blazer for a sultry understatement, you just can't go wrong. Lately, some of my favorite pieces that really stand out come from bostonproper.com:
"Marilyn" Blouse, available in multiple colors
Makeup
All right, guys, when it comes to holiday makeup, it's ALL about an intense, glittery smokey eye with long, thick, intense lashes. For glittery eyes, I LOVE Stila's Glitter and Glow line, which is available in many shades (though, FYI, E.L.F Cosmetics has a super affordable dupe as well--their liquid glitter eye shadow is just as amazing looking as the Stila product, and ELF's version is only $5!). For lashes, I love Ardell's Naked Strip Lashes in #422, and I use Silly George's adhesive felt tip liner...literally the ONLY false lash product that has EVER worked for me!
Pro Tip: Make sure to use a great eyeshadow primer to lock your look in place all day!
Some of the Stila shades, available all over at prestige makeup stores (including Sephora and Ulta)
ELF's Liquid Glitter Eyeshadow
What makes these lashes awesome to work with is the Invisiband, the clear band at the base of the lashes. When used with the Silly George adhesive felt tip liner, it makes these puppies blend beautifully into your natural lash line. They are also easy to find at drugstores, or sallybeautysupply.com
Silly George's LinerBond felt tip adhesive liner--which legit just applies like a felt tip eyeliner, then holds your lashes in place like hard-to-apply glue without the mess!--is a MUST for false lash wearers! Available at sillygeorge.com. 
What do you pair with a fantastic, smokey, glittery eye? Why, a matte red lip, of course!
Make sure you find what red best suits your skin tone (for me, it's a deep red with blue undertones), and then find a long-lasting lipstick in that magical shade. Pro tip: After applying, blot lips with a tissue repeatedly, then re-apply and do the same one or two more times to create a stain that lasts for hours!
Maybelline SuperStay Ink Crayon Lipstick--my perfect shade is "Own Your Empire"
My ideal holiday makeup look!!!
Shoes
For a fierce holiday look, you need the fiercest shoes! For me, that always includes either over-the-knee stiletto boots, or platform heels! Some great platform heel choices are available on Amazon, like the pair below by DREAM PAIRS:
I'm absolutely obsessed with these gorgeous boots from Chinese Laundry--they are gorgeous, super high while still being pretty comfy, and they ACTUALLY. STAY. UP...my OTK boot-wearing ladies know what I'm talking about! Available in two colors from chineselaundry.com--black and burgundy--they are priced affordably enough to get both colors!
I have these exact boots and they go with every look! I hope to get the burgundy soon too!
Wondering what jewelry to pair your incredible look with? See my earlier blog post, "Accessorize Me"!
There you have it, my lovelies! My picks for a fierce, feminine, and sexy look this holiday season. Whether you rock your fabulousness in your living room or over Zoom, I hope you have a glorious holiday. 
In two weeks, I'll be sharing "A Very TCC Holiday" with the TCC team reflecting on their favorite Christmas memories and traditions. Until then, stay safe, stay sane, and stay fabulous!
Love, 
-Em