Accessorize Me--Jewelry Essentials that Compliment Every Girl's Wardrobe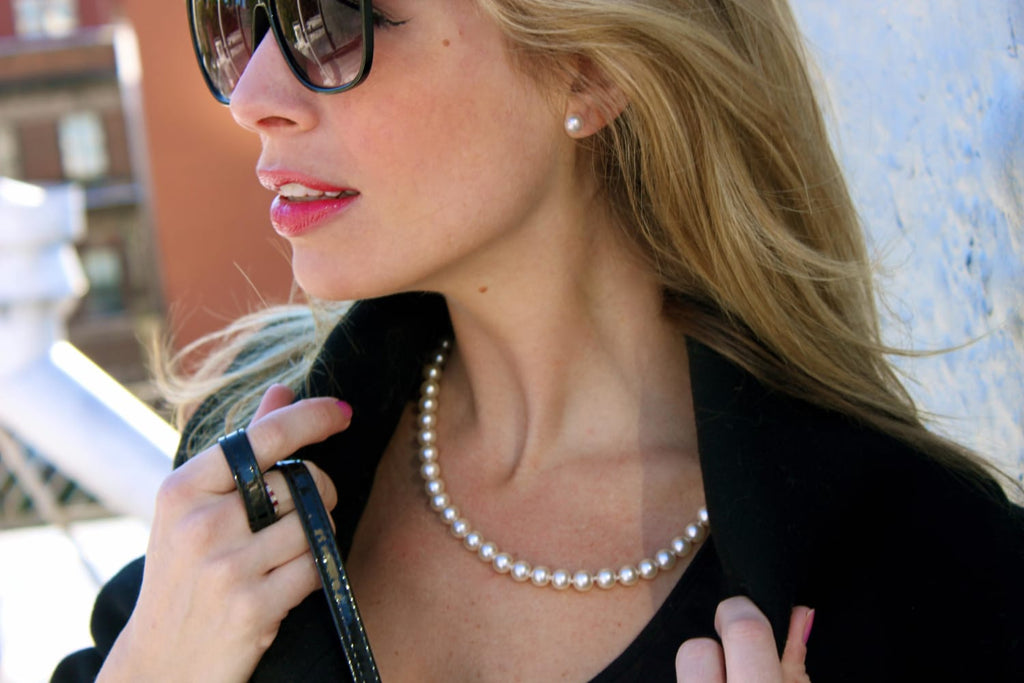 Some might argue that no piece of jewelry would be considered "essential", but I would beg to differ (this will come as no surprise to my poor husband). The right staple pieces of jewelry should compliment every outfit you wear, no matter if you are going for casual or dressy that day. It should also work well with whatever other accessories you choose that day (think scarves, sunglasses, and shoes). 
I have made a habit of scouting gorgeous pieces of fine jewelry (real gemstones, solid gold, etc.) for the best prices possible. Below, I'll share some of my secrets for finding gorgeous staple pieces of jewelry for unbelievable prices (eBay!), and also my favorite place to scout well-made dupes if fine jewelry is not in your budget at the moment, but you still want to add some sparkle to your outfits. One thing I would mention before we dive in--try to stick with one color of gold for your "essential" pieces--either all gold or all yellow. This makes everything flow a bit better, and look more uniform. 
So, without further ado...
Jewelry Staples Every Woman Should Have to Compliment Her Wardrobe
A classic strand of pearls
-Your grandma was on to something--nothing screams elegance and sophistication like a simple strand of classic white pearls. The versatility of a strand of pearls can't be overstated--whether you wear them to dress up a casual tee and jeans ensemble, or your strand accessorizes your favorite cocktail dress at a formal function, a strand of pearls are one of the most essential pieces of jewelry for a woman's wardrobe. 
I recommend searching for a strand that has a solid 14K white or yellow gold clasp--silver is lovely and often more affordable, but keep in mind that silver tarnishes. You most likely won't be wearing your pearls every single day, and the last thing you want to deal with while dressing for a function is having to polish your clasp last minute. 
Perhaps shockingly, I have found that eBay is an AMAZING place to find some gorgeous pearls. The great thing about eBay is that you have 30 days to exchange a purchase, so if you want to take your new jewelry to a jeweler for an appraisal and it turns out not to be of the quality you wanted, you can return your new piece and get all of your money back. Freshwater pearls--which look almost just like their more expensive cousin, saltwater pearls--tend to be a great deal. 
This is a great current deal I found on eBay: https://www.ebay.com/itm/17-1-2-Genuine-5-6-mm-Pearl-Necklace-w-14K-Yellow-Gold-Clasp/333437195249?hash=item4da267d3f1:g:bI4AAOSw1hZd8-4C
I purchased a beautiful strand last summer for somewhere around $30--yes, genuine freshwater pearls with a stamped 14K gold clasp! It was so beautiful and such a great value I ended up purchasing a second strand for a friend, who was equally delighted. I can't tell you how many times I've worn these pearls over the last year, and I look forward to giving them to my daughter someday. 
Rocking both my Ebay pearls and one of my favorite TCC dresses to go on-location (I'm a reporter)
-You don't need to wait for a man to buy this for you--a classic eternity ring is a jewelry staple that will not only go with everything, it's somehow both attention-grabbing and understated at the same time. 
I recommend sticking with a one carat total weight ring--substantial enough to grab the eye, yet not overwhelming on your finger and easy to stack with other rings if you wish. 
I personally recommend going with either black or white diamonds (or a mixture of both) for a classic ring that will pair beautifully with all of your outfits and other staple pieces of jewelry. 
ross-simons.com has some of my favorite, affordable, and stunning eternity bands. The one below is a classic that is guaranteed to go with everything you wear, and the eye-catchingly unique mixture of black and white diamonds (totaling one carat)  is stunning (search Item #: 923736 on ross-simons.com): 
Image credit: ross-simons.com
For a classic look for less, modgents.com offers high-quality faux stones (CZ) that sparkle like the real thing, set in real rhodium plated sterling silver. Search "The Eternity" style on modgents.com to see this ring; available in silver, rose gold plated, or gold plated:
Image credit: modgents.com
You get the look of the real thing, for a fraction of the price ($44.95!). The best part? This ring comes with a Lifetime Warranty, so if it starts to look wonky in any way, they will replace it!
-The ultimate classic piece of jewelry for any woman's wardrobe: The diamond stud. I recommend to go no lower than 1 carat total weight (or .5 carat per stud), as anything smaller will most likely barely show up on your earlobe. 
These studs from Pompeii3.com (search item number ER3150-1.0WDD on their site) clock in at just under $500 for the pair, set in solid white gold. *From experience, you will want to check the quality of the diamonds from this company. However, this particular pair is a great deal and very highly rated).*
A cheap alternative from modgents.com again are these great studs (search "The Ritz" on the modgents.com) for $29.95!
Image credit: modgents.com
-Every girl's best friend, you simply can't go wrong with a classic diamond stud pendant. Once again, I recommend searching on EBay, Ross-simons.com, or pompeii3.com for great deals on great pieces in your price range, and the modgents.com for a cost-effective solution. 
-Typically worn on the right hand, or a finger on the left other than the ring finger, a statement ring (preferably one set with gemstones) is a piece that is sure to thrill. I've found some incredible statement rings for great prices on Ebay, including the one below:
Over 2 carat genuine blue topaz, set in solid stamped 10K white gold with genuine blue and white diamonds, for around $200. Can't beat it!
-A "wow" bracelet can be a slightly less-classic, more personalized piece of essential jewelry than pearls or diamond studs. I say go with what thrills you--whether it's a tennis bracelet (real or faux), a multi-strand gemstone bracelet, or something classic, such as a beautiful pearl and yellow gold Tiffany bracelet my Dad gifted me five years ago that is one of my most treasured pieces. Make it loud, make it proud, and make it reflect you!
So there you have it, friends! My "essentials" list for classic pieces of jewelry that every girl should have in her jewelry box to compliment her wardrobe. 
Next up? I'll be exploring my favorite Fall workouts (spoiler alert: lots of walking), workout playlists, and...
SHOES!
Have a great two weeks, enjoy the Fall weather, and stay sparkly!
<3
-Em